---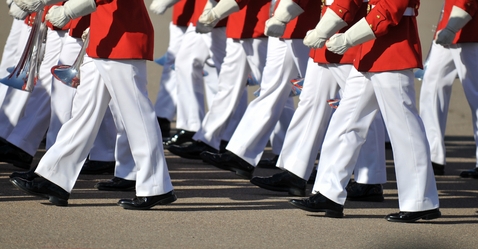 With anything you take pride in doing, ya gotta have the right stuff to do it well. Naturally in any performing drum and brass corp, good equipment is essential. The willingness to work hard, the time spent practicing, great coordinators and volunteers all adds up to nothing if your corp doesn't have an impressive look. I'm speaking about clothing and the right outfitting. "To look good is to feel good." Whether you're corp is physically active or performs on stage, the first impression you give is very important.
Are you polished and put together? Is your look as authentic as your love of the music? Lots to be considered. At Patriots Drum Corp, we have used Dinkles for years. Dinkles has been around for over 6 decades and they have become the go-to place for equipment. Entrepreneur, Sam Savoca sets a standard and won't settle for anything less than making the best craftsman marching shoes ever produced.
From shoes they've branched out to include all things corp. A family owned company from the beginning, Dinkles is the place most Drum and Brass groups know they can get what they want. If Dinkles doesn't have something a band needs, they employ modern technology and use a 3-D Printer to prototype a piece. From there with approval, it can be custom produced.
Shoes are the foundation, literally to a good marching experience. Being on our feet for hours nonstop requires reliable, comfortable supportive footwear. Some of our favorites:
The Dinkles Edge
Want a dynamic marching shoe without looking like a dork? It can be done. The Edge model has a contemporary athletic shoe appearance and holds up to the rigors of marching band and drum corp season. More than half the corpsmen of Patriots wear the Edge and never complain about sore feet or achy legs.
The Vanguard
This is the favorite classic, never-lets-you down shoe. It's the shoe that launched the industry and basically set the standard. Introduced in 1986 and reaching a pinnacle of performance with all-leather upper and counter-tread rubber sole. It's the shoe that has consistently excelled on football fields and parade routes across America.
The Formal
For occasions that call for your dress blues or whites it means the Edge won't cut it. You need something sleek and stylish with clean, simple lines, but still big on comfort. A highly polished routine calls for a polished shoe. The classic infrastructure of the Vanguard is used as the basic construction model of the Formal, so reliability is never a question.
The Glide
When you want quality, but want to keep an eye on the budget, the Glide offers the most affordable shoe a marcher can buy. This model not only affords a good price, but also assures safety and stability due to the full rubber sole. When a corp member needs the support, but finds him or herself on a restricted budget the Glide steps in and the shoe of choice.
Precision comes in many forms for a drum corp like the Patriots, but we are no different than the other drum and bugle corps or marching bands doing their thing. Each performance requires us to be our best and to put our best foot forward. Naturally, it's all about the attitude, but having the right equipment from the ground up gives each corp the capability to put that attitude out there in the best way possible.
Dinkels comes through for Drum and Bugle Corps and this writer has nothing but high praise for this supplier. They know what we need and they deliver the best.