---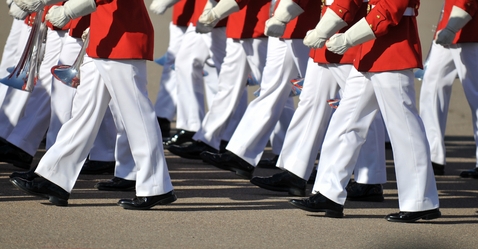 With anything you take pride in doing, ya gotta have the right stuff to do it well. Naturally in any performing drum and brass corp, good equipment is essential. The willingness to work hard, the time spent practicing, great coordinators and volunteers all adds up to nothing if your corp doesn't have an impressive look. I'm speaking about clothing and the right outfitting. "To look good is to feel good." Whether you're corp is physically active or performs on stage, the first impression you give is very important.
Are you polished and put together? Is your look as authentic as your love of the music? Lots to be considered. At Patriots Drum Corp, we have used Dinkles for years. Dinkles has been around for over 6 decades and they have become the go-to place for equipment. Entrepreneur, Sam Savoca sets a standard and won't settle for anything less than making the best craftsman marching shoes ever produced.
From shoes they've branched out to include all things corp. A family owned company from the beginning, Dinkles is the place most Drum and Brass groups know they can get what they want. If Dinkles doesn't have something a band needs, they employ modern technology and use a 3-D Printer to prototype a piece. From there with approval, it can be custom produced.